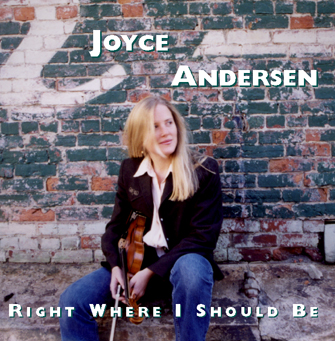 "Right Where I Should Be"
For sale on this website(MasterCard/Visa) from Joyscream Music, or send a check ($15 + $2 shipping per CD) to the address below.
"Right Where I Should Be" is getting a startlingly enthusiastic reception from folk, American and bluegrass radio DJs across the country and we already have some reviews and features stories from the press to share with you.
"Right Where I Should Be" is fiddler-singer-songwriter Joyce Andersen's second solo CD out on her own label Joyscream Music. Andersen has made a name for herself as a sought-after fiddler and session player in the Northeast for the last ten years, and has played in bluegrass, country, rock, jazz & celtic groups. During stints with The McKrells, the John Lincoln Wright and the Sour Mash Boys, Marshall Crenshaw, New England Bluegrass Band, Childsplay Fiddle Orchestra, and Sassygrass among others, her fiery fiddling has run the gamut from Nashville country, alt rock, swing, bluegrass, celtic, folk, to various traditional fiddle styles. The last 3 years she has teamed up with songwriter and acoustic guitar legend Harvey Reid to record a highly-acclaimed duo CD, and to do a lot of concert touring. Reid co-produced her first solo CD "The Girl I Left Behind" in 2000, which sparked a lot of interest in her as a songwriter and singer.

Andersen has now taken another step out into the solo limelight, and her newest CD, co-produced by Andersen and New England journeyman songwriter Tom Dean (of Devonsquare fame,) shines the spotlight on her as a songwriter, singer, and guitar player. Her clear and powerful voice and brilliant fiddle work are always in the forefront, and her thoughtful and inspiring songs, memorable phrases and uncanny gift for melody mark her as a major new talent in the acoustic scene. The CD presents 11 new Andersen original songs, one original fiddle instrumental, and two traditional songs. Her compositions have a sophistication, laced with a refreshing originality and depth, and as she jumps effortlessly from a celtic-flavored ballad to a gospel-tinged blues, a catchy twangy country song, or a gypsy waltz, she makes them all unmistakably part of her own sound.
The years of absorbing the wide spectrum of music around her has given her a music a remarkable breadth, and she clearly stands out amid the cluttered landscape of singer-songwriters."Right Where I Should Be" shows Andersen to be a formidable talent, with her own musical vision, and not someone who is not merely following trends. Sparsely produced and mostly recorded live-in-the-studio, it underscores the excitement of her performances. The urgency of the interaction with her backup musicians gives this album a spark of raw and authentic energy, and mark Joyce Andersen as a musician on the rise.

The Songs: Strange Elation • Saddle Up The Storm • Eve • Who's Gonna Shoe Your Pretty Little Foot • Thomas • I'm Ready • Molina Ericksen • Pretty Sylvia • I Just Wanna Dance • Love Finds A Way • Strangers No More • There He Goes • The Whole World Is Doin' It
Home • Schedule • Join Mailing List • Catalog of Recordings • Bio • Reviews • Hank & Dixie • Video • Lyrics • Audio Files • Download Photos • Newspaper Articles • Interviews
JOYSCREAM MUSIC / WOODPECKER MULTIMEDIA
PO Box 815 York ME 03909
phone (207) 363-1886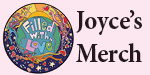 ---