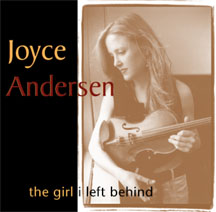 The Girl I Left Behind
For sale on this website(MasterCard/Visa) from Joyscream Music, or send a check ($15 + $2 shipping per CD) to the address below.
The Girl I Left Behind, released in the fall of 2000 on Joyscream Music, is singer-fiddler- songwriter Joyce AndersenŐs first full-length recording. With 5 originals, 5 covers, and 5 arrangements of traditional songs and tunes, Andersen steps out as a versatile and compelling singer after 10 years of playing fiddle in a long list of folk, country, bluegrass, swing and Irish bands. Here she showcases her mastery of traditional and pop-sensible folk as well as bluegrass and swing, and serves up a healthy 50 minutes of heartfelt acoustic music that will delight the hard-core folk and acoustic crowd as well as the newer generation of acoustic fans.
Recorded in pristine 24-bit, high-resolution digital sound quality, The Girl I Left Behind features Joyce solo on vocals, guitar and fiddle on 7 of the cuts, and in the rest of the CD's sparse production which she co-produced with Harvey Reid, she shines in duets and small ensembles with Harvey, Celtic guitar and mandolin whiz David Surette, and the Lex Romane/Jon Ross rhythm section. Andersen's song choices, interpretation, and ease with a range of styles make for a compelling and coherent collection of songs. She glides effortlessly from her own confessional songwriting to traditional folk ballads and mountain fiddling, belts out a bluegrass and a swing number, and even delivers a daring Billie Holiday torch song with just her voice and plucked violin.
On The Girl I Left Behind, Joyce Andersen takes you on a ride through the melting pot of American acoustic music. On her own Ramblin' Man, which sounds like an Appalachian standard, her simultaneous voice and violin harmonize like two women singing. Her Devil's Fiddle nods to a classical violin background and puts a refreshing and contemporary spin on the old theme of the devil and the fiddle. With just her guitar she delivers a crystalline cover of Townes Van Zandt's Columbine, plus her new-folk originals Dizzy With the View and Lean Into the Light. The title track, a soulful solo fiddle air, rounds out her solo performances. Multi-instrumentalist extraordinaire Harvey Reid lends his harmony vocals and deeply rooted, inventive guitar, dobro and autoharp playing to six songs. Joyce and Harvey soar on their tight duet singing and instrumental interplay on the traditional Short Life Of Trouble, Maggie and When I Was a Young Girl. Her western ballad Going to Bodie and his fingerpicking Show Me the Road sound like old classics. On Giving Everything Away, a delightful old Riley Puckett song from the 1920's, Joyce gets a chance to swing on the fiddle, and nails the showstopper blues vocal so authentically you can't believe she wasn't born and raised in Memphis. On Growling Old Man she twins a classic fiddle tune with guitar great David Surette.
The Girl I Left Behind is a strong and clear statement from Joyce Andersen that she is here to stay as a solo artist, songwriter, and singer. It is also proof that some of the new generation of acoustic musicians have great chops as musicians, and can put a satisfying, up-to-date spin on the folk tradition, while adding even more fresh and tasty ingredients to the musical soup of American acoustic music.
Comments from fans about this CD
---
THE SONGS:
1. Columbine (T. Van Zandt)(2:46) vocal, guitar
2. Who's That Knockin' At My Door (P.Enright)(3:18) vocal, fiddle, guitar, mandolin
3. Short Life of Trouble (Trad.)(4:39) vocal duet, fiddle, guitar
4. Going to Bodie (J. Andersen)(4:54) vocal, guitar, fiddle, dobro
5. Ramblin' Man (J. Andersen)(3:58) vocal, fiddle
6. Maggie (Trad.)(5:03) 2 vocals, fiddle, autoharp, guitar
7. Giving Everything Away (C. McMichen)(2:50) vocal, fiddle, guitar, mandolin, bass
8. Don't Explain (A. Herzog Jr/ B. Holiday)(2:14) vocal, fiddle
9. The Girl I Left Behind (Trad.)(0:47) solo fiddle
10. Devil's Fiddle (J. Andersen)(2:36) vocal, fiddle
11. Growling Old Man (Trad.)(2:44) fiddle, guitar
12. Dizzy With the View (J. Andersen)(2:59) vocal, guitar
13. Show Me the Road (H. Reid)(3:40) 2 vocals, guitar, fiddle
14. Lean Into the Light (J. Andersen)(3:00) vocal, guitar
15. When I Was a Young Girl (Trad.)(4:39) vocal, guitar, viola
---
"This CD was cooked up in a little corner of the huge melting pot of American acoustic music. I imagine myself knee deep in the musical soup- a young girl, a woman, an old woman- stirring it all up with my fiddle, singing songs, both joyful and sad, of the girl I left behind. Sometimes I've got Billie Holiday's blues in one ear and the mountain singing of Ralph Stanley in the other... sometimes I'm just banging on my guitar, singing my own song. Please support an independent artist and the little pot of soup on her stove." (JA August 2000)
---
Joyce Andersen vocals, fiddle, guitar (1,12,14), viola
Harvey Reid vocals, guitars (2,3,4,6,13,15) autoharp, dobro
Lex Romane arch-top guitar (7)
Jon Ross bass, mandolin (7)
David Surette guitar (11), mandolin (2)
Recording/Mixing Harvey Reid, Joyce Andersen
March - August, 2000 at Woodpecker Studios, York, Maine
Home • Schedule • Join Mailing List • Catalog of Recordings • Bio • Reviews • Hank & Dixie • Video • Lyrics • Audio Files • Download Photos • Newspaper Articles • Interviews
JOYSCREAM MUSIC / WOODPECKER MULTIMEDIA
PO Box 815 York ME 03909
phone (207) 363-1886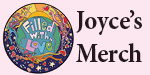 ---