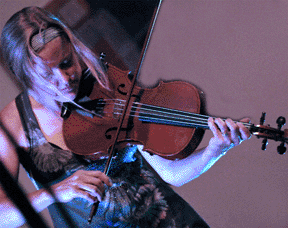 Joyce Andersen Bio
Joyce Andersen is a veteran musician who has enjoyed a varied 25 year career as side-gal, session player, singer-songwriter, and band leader. Her live shows and recordings showcase her versatility as a vocalist and violinist who thrives on writing and interpreting songs across many genres from old-time, rock & Americana, spirituals, folk, pop, & swing. She started getting critical acclaim and radio play in the folk world with her first full length CD "The Girl I Left Behind" (2000) for it's songwriting, breadth of styles and her unique ability to harmonize her vocals with her violin. Her newest CD "SWERVE!" marks the invention of her innovative new "violin troubadour" sound which reflects her strengths as an improviser, and her new found interest in using technology (loops, effects etc.) to harness new sonic landscapes and launch into extended psychedelic jams.
Andersen has made 9 CDs: 5 solo and 4 with husband and folk virtuoso, Harvey Reid. She lived and toured out of Boston, Nashville, and NYC before returning to her native New England in 2000 where she lives with her husband and their two boys, in York, ME. Andersen's music has brought her from the coffeehouses and taverns of her native New England, national & international touring as a solo artist and with husband, Harvey Reid, Childsplay, Eric Andersen, Richard Thompson and a host of other artists in her side-gal days. She even made it to Carnegie Hall and the Conan O'Brien show. She just started a new chapter in Oct, 2017, as musical director of an alternative chruch service on Thursdays at First Parish Church in York, Maine.
Reid & Andersen's 4 CD, 80 page hard back book "Song Train" was featured in "Acoustic Guitar Magazine" for its innovative and down home approach to helping beginning & intermediate guitar players make more music. Andersen's songs "Strange Elation" (from CD "Right Where I Should Be") and "Filled with Love" (from CD "Love & Thirst") were featured songs on Sing Out Magazine's CD compilations. She is currently trying to get better at the juggling acts of motherhood, violin troubadourhood, band-leadership, and being the music director for an alternative church service at First Parish Church in York, Maine.
Sing Out! magazine says her CDs "...places her right up there with any of the songwriters out there performing their songs today."
The Boston Globe says "That neo-traditional current is starting to be felt among the ranks of New England songwriters...among the hottest...New Hampshire fiddler-singer Joyce Andersen."
And Minnesota Public Radio says "Youth and strength flow through her voice. She's got power and conviction. . . She's writing new songs and retelling old stories, and there's" still something mysterious in her music that sounds like comes from an ancient and pure source."
Home • Schedule • Join Mailing List • Catalog of Recordings • Bio • Reviews • Hank & Dixie • Video • Lyrics • Audio Files • Download Photos • Newspaper Articles • Interviews
JOYSCREAM MUSIC / WOODPECKER MULTIMEDIA
PO Box 815 York ME 03909
phone (207) 363-1886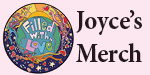 ---