By Samantha Stephens
Portsmouth Herald Spotlight Cover Story
March 1, 2012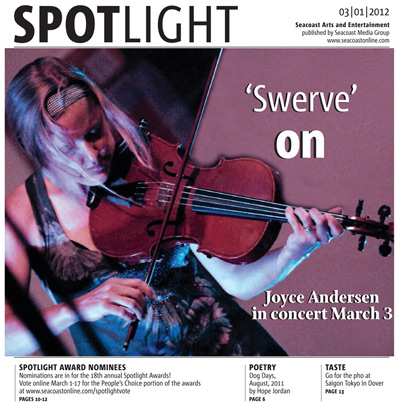 It might not be easy to juggle the responsibilities attached to being a mother of two young boys and the spontaneity of a musician, but Joyce Andersen said she has never rocked harder than she does now, even with the pressures of playing several roles.
"It's a challenging mash-up, motherhood and making and performing music. I've had to learn how to turn my songwriting on and off depending on who needs what at any given time. But I sneak it in," Andersen said.

With her love of music an instrumental element of her life, Andersen said she often works while the rest of her family is asleep.
"The house isn't as neat as it used to be but now the boys see me doing something that makes me happy and something I do for a living. I'm so glad I didn't lose that," she said. "Everyone has to deal with the juggling aspect of life. There are so many compromises, but there are so many golden moments."

Through her own ambition as a recording artist, Andersen also said she hopes to inspire her children to find their own passions.
"I'm following my bliss," Andersen said. "I tell my kids if anything makes you feel excited, really pay attention to that excited feeling and follow things you are excited about."

As a folk musician who dabbles in every genre, from bluegrass to rock, Andersen's own artistic roots led her to playing the violin when she was a child. "I tried piano when I was 8 but it didn't click. I asked to take violin lessons a year later," she said.
Admitting it was the "group workshops" held once a month that allowed her the opportunity to play with friends that kept her interested, Andersen said it was only when she discovered non-classical idioms, including bluegrass, jazz, and Celtic fiddling, that she found her groove.

"I fell in love with one style after another and went to bluegrass festivals, instructional fiddle camps, Celtic jam sessions," she said. "I just learned how to find the music that had always been there hiding from the mainstream."
Saying that her style "puts a modern spin on an old art form," Andersen performs her own music on the violin and accompanies it with vocals.

"Singing fiddlers are rare these days. It's hard to stay in tune so that keeps a lot of folks from doing it. And most fiddlers play in bands and they don't have to sing and fiddle at the same time," Andersen explained. "This whole new sound is born out of my decision to make a solo CD with just voice and violin, and it really made me push the envelope on what songs I could do and how." With her musical influences ranging from Billie Holiday and Otis Redding to Sheryl Crow, The Rolling Stones and Louis Armstrong, Andersen said she tries to bridge all the genres in her albums and live performances.

"I need to make sure my concert show is diverse enough. I never thought I'd be singing Jimi Hendrix's 'Hey Joe,'" she said.
But many who hear Andersen's music assume she would fall under the umbrella of the entertainment world's leading singing fiddlers.
"Whenever I play in bars, people expect me to play Alison Krauss or Charlie Daniels, but I don't happen to cover their songs. I recently realized they are the only famous singing fiddlers, really. And I have to laugh, but maybe I am kind of a cross between the two of them. I sing achy ballads but I like to mix in some wild barn-burners, too," Andersen said.
But performing solo, Andersen said she's unsure of any other musician who is "doing the violin troubadour thing without a band or a back-up guitar player."

"It's a different dynamic to stand up there by yourself and deliver your songs. And the sounds I'm getting with the new gear I've been learning for the past couple years, I don't know what to compare it to," she said. "Maybe it's out there already, but I haven't heard it."
Whether she's performing with a toddler strapped to her back, as she did when her eldest son was a baby, or jamming in her home or at a local pub, Andersen said she enjoys the "old fashioned" element to being a professional folk artist.
"When I started making CDs I thought I'd end up working with a label eventually. But the music industry doesn't make much room for folks like me. Still, there are folks who get lucky breaks so you never stop wondering if you'll get one someday," Andersen said.
But even without a major label backing any of her five albums, Andersen said she has found her own lucky break by marrying a fellow trailblazer musician.

"I met and married Harvey Reid who, among many other things, has shown me how to make CDs on my own label, work hard getting nice little concert gigs, and earn one fan at a time," she said. "It's an old-fashioned way to make a living, really."
And with her many hats, ranging from mother, wife, friend to musician and performing artist, Andersen said the chaos is all part of the journey.

"Parenthood, work, making art, taking care of the house, maintaining friendships, it's hard to dance to sometimes," she admits. "But dancing to the mayhem, well, that's the goal!"
Home • Schedule • Join Mailing List • Catalog of Recordings • Bio • Reviews • Hank & Dixie • Video • Lyrics • Audio Files • Download Photos • Newspaper Articles • Interviews
JOYSCREAM MUSIC / WOODPECKER MULTIMEDIA
PO Box 815 York ME 03909
phone (207) 363-1886
---