For sale on this website(MasterCard/Visa) from Joyscream Music,
or send a check ($15 + $2 shipping per CD) to Joyscream Music at the address below.
"...bold and fearless throughout... powerful stuff, beautifully rendered "
Sing Out Magazine
Joyscream Music announces the release of singer-songwriter-fiddler Joyce Andersen's 4th solo recording, "Love & Thirst." The CD features her songwriting and voice on center stage, and she contributes 11 new original songs to the 60-minute album, with one traditional song and one cover. Andersen arranged and produced the songs on the album, and has taken command of her art with a strong and steady hand, forging an unmistakable musical presence and an immediately recognizable sound.
Andersen has harnessed a formidable rhythm section in Dave Mattacks (drums & percussion) and John Troy (bass) to help her deliver this powerful set of songs. Mattacks is known for his work with Fairport Convention, Richard Thompson & Mary Chapin Carpenter, and Troy, a founding member of the legendary Poussette-Dart Band has been a well-known figure in the New England music scene for many years. They provide a rock-solid but understated rhythm section. Also contributing on the CD are Duke Levine (guitars & mandola), Bruce Derr (pedal steel), Rick Watson (piano), Pete Huttlinger (guitar) and Harvey Reid (guitar & lap steel).
Andersen's confident vocals and sophisticated songs are the central focus of Love & Thirst, though she also shines with her stellar fiddle playing (check out the solo at the end of "Thirsty Girl") and her increasingly confident guitar work. She shows no signs of slowing the pace of her growth as a solo artist after years of recording sessions and side-gal work, and the lyrical and musical depth of her new material signal that she is a mature and grounded artist with a broad vision and a prolific pen. Joyce Andersen fans will find more of her trademark sound here, though she is obviously gaining momentum, with more energy and confidence than ever.
"Love & Thirst" is sure to win her many new converts, with its crisp, clean, sparse and powerful sound, carrying her passionate message like a flag. Her upbeat but thoughtful songs like "Thirsty Girl" and "Misled" are catchy enough to be pop hits, yet her peace anthem "Filled With Love" and her moving cover of Eric Andersen's anti-war epic "For What Was Gained" (Eric says it's the best cover ever of one of his songs!)are powerful enough for any coffeehouse audience. Joyce Andersen is a shining example of the new breed of talented, confident women who are rewriting the rules of the music business and reaching across boundary lines to their audiences. She drinks deeply of life; she sings of love and loneliness, of peace and fellowship, with many nods to faith, desire, hope and beauty. She carries us upward and fills us with her musical vision, all the while reminding us the joys of feeling, loving and thirsting.
The Songs...
You Might Live For Rock 'n Roll
Sound of Hearts
Trusting Spring
Lonely Riders
Brain Cloudy Blues
Secrets Lies
You Were the One
Misled
Peace Trilogy I: Two Soldiers
Peace Trilogy II: For What Was Gained
Peace Trilogy III: Filled With Love (LISTEN to the MP3)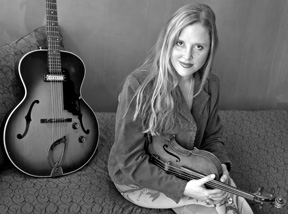 "It's a brilliant album. The beautiful emotions and edges of your voice, the guitars, the bass, sparce power of the drums...The sound was great and your violin has never been better. Pure simplicity and expressiveness. A genius album." Eric Andersen (no relation)